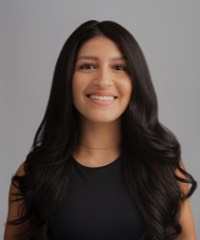 Erica Sanchez, MS
Registered Marriage and Family Therapist Intern

My Consent Forms
Contact Me

Welcome! I am a Florida native and I'm honored to be able to serve Brandon and the surrounding areas! Some of my favorite things/activities are exploring new places, morning walks outside, reading, running for fun, a good cup of coffee and quality time with family and friends.

I am currently pursing my license in marriage and family therapy and under the direct supervision of
Erica Willer, LMFT
. I received my B.S. in psychology at Southeastern University in Lakeland, Florida. I later went on to receive my master's degree in Marriage and Family Counseling at Southeastern University, as well. I have experience working in both community mental health agencies and private practices as a bilingual therapist. Some of the different populations I have worked with include children, adolescents and young adults within diverse cultural backgrounds and clinical presentations including but not limited to:


Anxiety
Body Image/Self Esteem
Perfectionism
Relational issues/Attachments
Family conflict
Bullying
Depression Coping Skills/ Stress Management
Grief Trauma Life transitions
Faith/Spirituality

My treatment approach is collaborative and non-judgmental. It primarily serves adolescents and young adults facing self-esteem issues and relational/ family issues. In addition to this, I like to focus on attachments and explore the individual's past experiences with caregivers and significant others and how these relationships have shaped their coping patterns.

Together, we will focus on treatment goals and personal awareness, discuss current coping strategies and regularly assess progress. My training includes a variety of treatment modalities such as Play therapy, Interpersonal therapy and Cognitive-Behavioral therapy, including Dialectical Behavioral and Mindfulness-based skills. I also often include personality assessments into my sessions and Enneagram Coaching.

Please contact the office if you would like additional information or to schedule an initial consultation. Since I am not on insurance panels, I only accept cash and credit card payments.