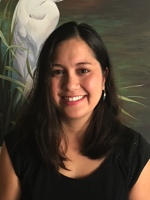 Kimberly Miller, Psy.D.
Kimberly W. Miller, Psy.D., P.A.
Licensed Psychologist
FL Lic.# PY8794

My Consent Forms
Contact Me


It is a wonderful opportunity to work in the Brandon community. I grew up here, and I have family roots in the community. After being away for about 12 years it is good to be back home. I come from a multicultural military family and have lived in California, Germany, Oklahoma, and Scotland. In my free time I enjoy photography, kayaking, hiking, swimming, exploring new places, volunteering at my daughter's school, and spending time with my family, including my two dogs.

I earned my B.A. in a double concentration of Psychology and Environmental Studies at New College of Florida, the state honors college in Sarasota. After graduating, I headed west to San Francisco and earned my M.A. and Psy.D. in Clinical Psychology with a concentration in Community Psychology at the California School of Professional Psychology in 2005. I completed my pre-doctoral internship and post-doctoral residency at WestCoast Children's Clinic in Oakland, CA. I became licensed in the state of California in 2007. I have worked and trained in a variety of clinical settings including community clinics, assisted living facilities, and forensic settings.

My current treatment approach is tailored to each unique situation that my clients bring to me. I work in a collaborative manner with long-term clients who seek ongoing support as well as with short-term clients who are seeking a brief solution-focused approach. I often use practical cognitive-behavioral and mindfulness-based techniques in order to help facilitate the development of stronger coping skills. I emphasize genuine caring and warmth because I understand the importance of a safe and nonjudgmental relationship in making lasting positive changes.

I assist clients with a broad range of issues some of which include: mood disorders, anxiety, stress management, parenting issues, anger management, trauma, grief and loss, and relationship problems.


I am an in-network provider for several insurance companies. I am also able to see clients on an out-of-network basis, and I can provide statements needed to obtain reimbursement from your insurance plan. Please don't hesitate to contact me for more information.